Welcome. This website is devoted to the memory of my late mother Smt Kamala Thiagarajan who passed away in October 2008. She was a Senior radio artist for many years and performed in AIR in many cities including Chennai, Delhi and Trivandrum. Below are some of her AIR concerts carefully recorded and digitized by my father Sri R. Thiagarajan. ENJOY
KAMALA THIAGARAJAN bio
Born in Palamarneri,Tanjore district, she was the great grand daughter of Nemam Natesa bhagavathar, a disciple of Tyagaraja. She had her first lessons in music from her mother, Lakshmi who was a disciple of Wallajapet Venkataramana Bagavathar and in veena from Veerayya followed then from Devakottai Narayana Iyengar. She had the privilege to attend the veena recitals of Veena Dhanammal in Linghi Chetti street, George town. She became a student of Sesha Iyengar, along with V.V.Satagopan. She had the guidance of many masters of music of her time, including Maharajapuram Viswanatha iyer, Kunnakkudi Venkatarama iyer, GNB, and MSS. Later in life she learnt music from Madurai Mani Iyer for over a year. In Calcutta she came under A. T. Kanan for over a couple of years in Hindustani music .She took a diploma in Indian music from the University of Madras under Vidwan Ponnaiya Pillai. She was a Senior artist on veena and broadcast programmes in corporation of madras and then the All India radio in several cities for over 6 decades when she quit as an A grade artist. She gave concerts in Chennai including some under the auspices of Ial Isai Sangam of Tamilnadu in 1967and in Calcutta including Tansen Sangeet Sammelan. She lived in Myalpore for 60 years with her husband, Sri R. Thiagarajan, her mother and her sisters, Dr Ambujam and Sundari.
We welcome your comments. Please email your comments to R. Thiagarajan at thiagu1919@gmail.com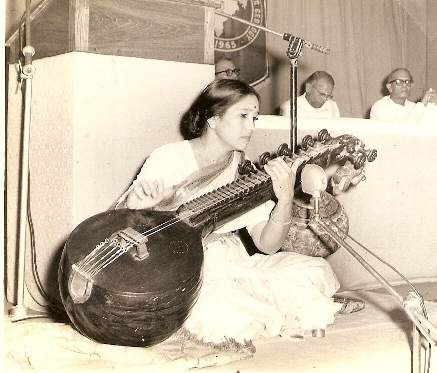 SITE STILL UNDER CONSTRUCTION!!!!!!!
.